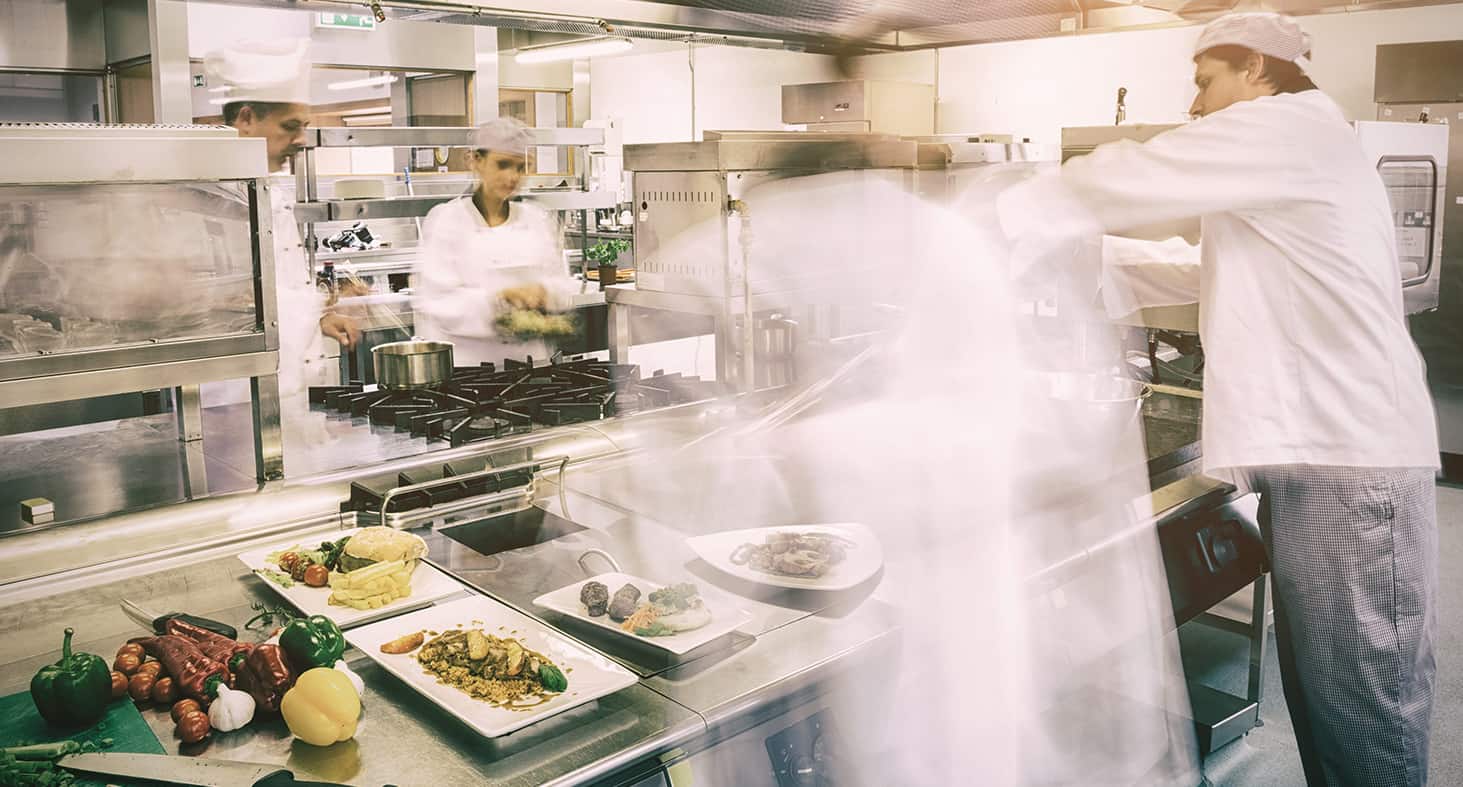 SIT40516
Certificate IV in
Commercial
Cookery


SIT40516
Certificate IV in Commercial Cookery


This qualification reflects the role of commercial cooks who have a supervisory or team leading role in the kitchen. They operate independently or with limited guidance from others and use discretion to solve non-routine problems
This qualification provides a pathway to work in organisations such as restaurants, hotels, clubs, pubs, cafes and coffee shops, or to run a small business in these sectors.
No occupational licensing, certification or specific legislative requirements apply to this qualification at the time of publication.
There are no entry requirements for this qualification.
This full-time course is delivered in a blended mode for 20 hours plus 10 hours per week self-study during the term.
Trainer led: Blended training 75% Face-to- Face and 25% Online.
Face-to-face: Trainer led sessions in a classroom setting combined with in-class experiential activities
Online: Moodle based Assessment Tasks.
Delivery Location: Lower Ground 121 Queen Street Campbelltown NSW 2560
| | | |
| --- | --- | --- |
| Unit Code | Unit Name | Core/Elective |
| SITXHRM002 | Roster Staff | Elective |
| SITXHRM003 | Lead and manage people | Core |
| SITXHRM001 | Coach others in job skills | Core |
| BSBITU202 | Create and use spreadsheets | Elective |
| SITXWHS002 | Identify hazards, assess and control safety risks | Elective |
| SITXMGT001 | Monitor work operations | Core |
| SITXCCS006 | Provide service to customers | Elective |
| BSBSUS401 | Implement and monitor environmentally sustainable work practices | Core |
| SITXWHS003 | Implement and monitor work health and safety practices | Core |
| SITHIND002 | Source and use information on the hospitality industry | Elective |
| SITXCOM005 | Manage conflict | Core |
| BSBDIV501 | Manage diversity in the workplace | Core |
| SITXFIN003 | Manage finances within a budget | Core |
| SITXFIN002 | Interpret Financial Information | Elective |
| BSBITU306 | Design and produce business documents | Elective |
| SITXFSA001 | Use hygienic practices for food safety | Core |
| SITXINV002 | Maintain the quality of perishable items | Core |
| SITHKOP004 | Develop menus for special dietary requirements | Core |
| SITHKOP002 | Plan and cost basic menus | Core |
| SITXFSA002 | Participate in safe food handling practices | Core |
| SITHCCC001 | Use food preparation equipment | Core |
| SITHCCC005 | Prepare dishes using basic methods of cookery | Core |
| SITHCCC006 | Prepare appetisers and salads | Core |
| SITHCCC014 | Prepare meat dishes | Core |
| SITHCCC007 | Prepare stocks, sauces and soups | Core |
| SITHCCC018 | Prepare food to meet special dietary requirements | Core |
| SITHCCC018 | Prepare food to meet special dietary requirements | Core |
| SITHCCC008 | Prepare vegetable, fruit, egg and farinaceous dishes | Core |
| SITHCCC012 | Prepare poultry dishes | Core |
| SITHCCC013 | Prepare seafood dishes | Core |
| SITHCCC019 | Produce cakes, pastries and breads | Core |
| SITHPAT006 | Produce desserts | Core |
| SITHKOP005 | Coordinate cooking operations | Core |
| SITHCCC020 | Work effectively as a cook | Core |
Cookery units delivered at our satellite training Kitchen at 17-19 Hassall Street Parramatta 2150
IMPORTANT NOTE: This course is not suitable for persons unable to handle meat, seafood, poultry or dairy. Campbell Institute cannot guarantee that kitchen facilities are free from potential allergens, including airborne particles of potential allergens. Accordingly, this course may not be suitable for people with severe allergies, including nuts allergies. Please note that all students must complete all of the units of competency required