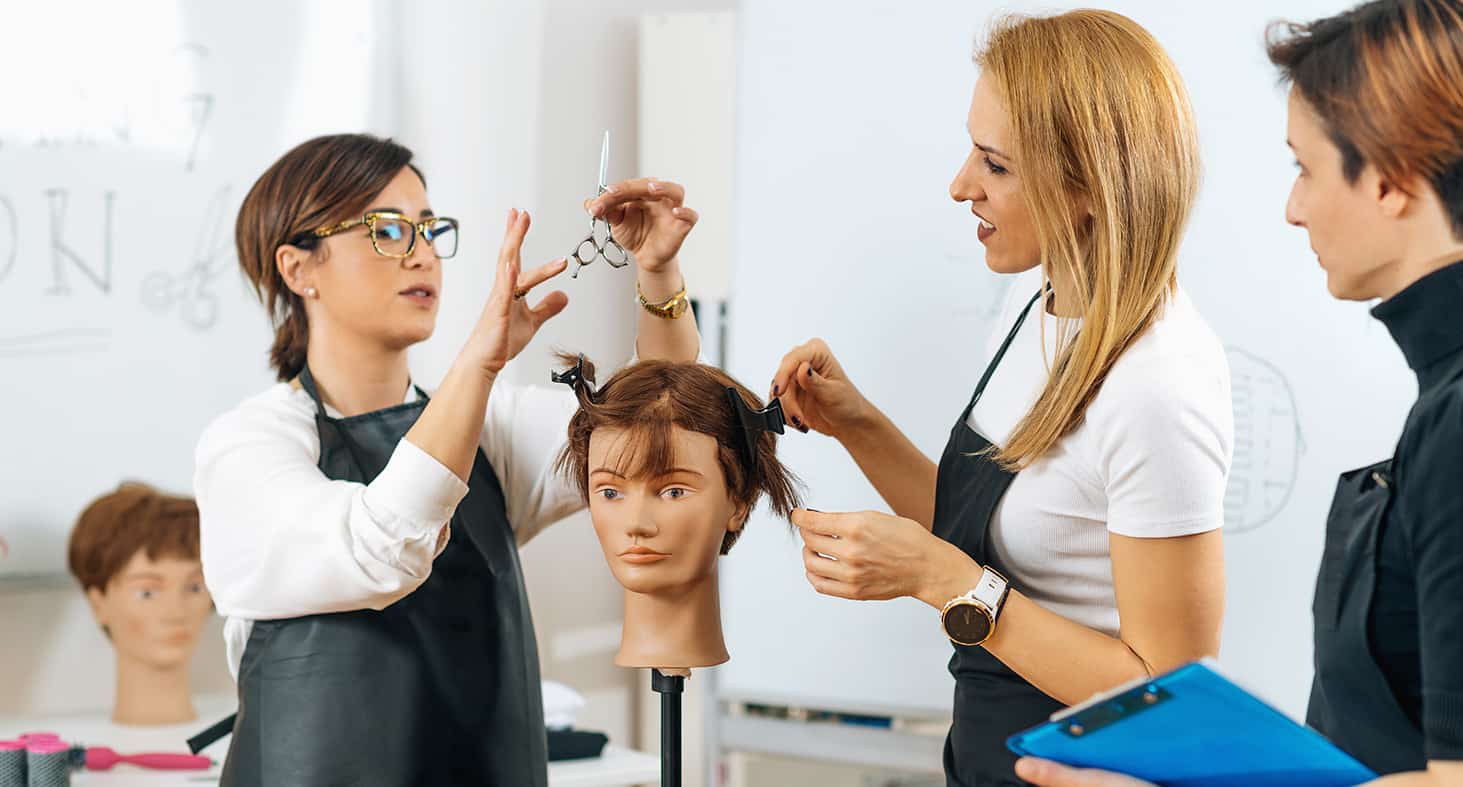 SHB30416
Certificate III
in Hairdressing
SHB30416
Certificate III in Hairdressing
This qualification reflects the role of hairdressers who use a range of well-developed sales, consultation and technical skills and knowledge to provide a broad range of hairdressing services to clients. They use discretion and judgement to provide client services and take responsibility for the outcomes of their own work.
This qualification provides a pathway to work as a hairdresser in any industry environment, usually a salon.
This qualification is a widely recognised pathway to a successful career as a qualified hairdresser and hairstylist in Australia's exciting and fast-growing beauty industry.:
NOTE: Campbell Institute also conducts an entry interview with all prospective students to confirm their details and ensure that the course selected is the most appropriate for their needs.
This program is delivered in a blended learning model that includes face to face learning and online/distance learning and practical training and assessment.
Program Duration: This qualification will be delivered over 104 weeks of training and assessment delivered over eight terms with 32 weeks of holidays.
| | | |
| --- | --- | --- |
| Unit Code | Unit Name | Core/Elective |
| SHBXWHS001 | Apply safe hygiene, health and work practices | Core |
| SHBXCCS002 | Conduct salon financial transactions | Core |
| SHBXIND001 | Comply with organisational requirements within a personal services environment | Core |
| SHBHIND002 | Research and use hairdressing industry information | Elective |
| SIRRMER001 | Produce visual merchandise displays | Elective |
| SHBHIND003 | Develop and expand a client base | Core |
| SHBXCCS002 | Provide salon services to clients | Core |
| SHBXIND002 | Communicate as part of a salon team | Core |
| SHBHDES004 | Create classic long hair up-styles | Elective |
| SHBHCCS001 | Plan hair services for special events | Elective |
| SHBHDES005 | Select and apply hair extensions | Elective |
| SHBHCUT004 | Create layered haircut structures | Core |
| SHBHCLS003 | Provide full and partial head highlighting treatments | Core |
| SHBHCLS005 | Provide on scalp full head and retouch bleach treatments | Core |
| SHBHCUT002 | Create one length or solid haircut structures | Core |
| SHBHCUT003 | Create graduated haircut structures | Core |
| SHBHCUT005 | Cut hair using over-comb techniques | Core |
| SHBHDES003 | Create finished hair designs | Core |
| SHBHIND001 | Maintain and organise tools, equipment and work areas | Core |
| SHBHREF002 | Straighten and relax hair with chemical treatments | Core |
| SHBHTRI001 | Identify and treat hair and scalp conditions | Core |
| SHBHCUT006 | Create combined haircut structures | Elective |
| | Create combined traditional and classic men's haircut structures | Elective |
| BSBSUS201 | Participate in environmentally sustainable work practices | Core |
| SHBHBAS001 | Provide shampoo and basin services | Core |
| SHBHCUT001 | Design haircut structures | Core |
| SHBHCLS002 | Colour and lighten hair | Core |
| SHBHCLS004 | Neutralise unwanted colours and tones | Core |